Knit Poncho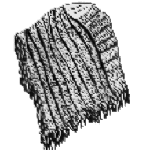 Knit Poncho from SpinCraft Patterns: Try this traditional knit pattern from our online catalog. A knit poncho made with the SpinCraft method is fun because you can make it to fit anyone from a small child to a really big guy. The first thing you do is measure the person who is going to be wearing the poncho. Then you knit a swatch with your chosen yarn and needles, measure the swatch to get a gauge. And finally, make some simple calculations to get the right size for your poncho. We have a great traditional poncho, and also capes, shawls and fancy things like cocoons and shrugs. We also have a full range of sweaters. You can make them with your chosen type of yarn: cotton, silk, rayon, you name it. You'll come up with a great knit poncho that really fits, and you can add your own color scheme!
Our knit poncho pattern uses a technique we call "Knit so it Fits". You knit until you get a poncho that fits your body. Way cool. In our online shopping cart you can buy our poncho knitting pattern individually, or get a great deal on this pattern included with two other great ideas for capes. Click here for a direct link to this great bargain: Knitting Pattern Set for Cape and Poncho.
Be sure to sign up for our free newsletter while you are signing up for an account. We are currently working on two more Poncho patterns and will let you know as soon as they are available.
Then please try our many other knit patterns for caps, scarves, sweaters, vests and more. Here is a link to the first page of our online knitting pattern shopping cart. You can also download all the patterns for a knit poncho straight into your computer and knit it whenever you want. Please bookmark the spincraftpatterns.com site after you get there, so you can come again and again.
And, sign up for our free online knitting newsletter. We love to Knit Ponchos!